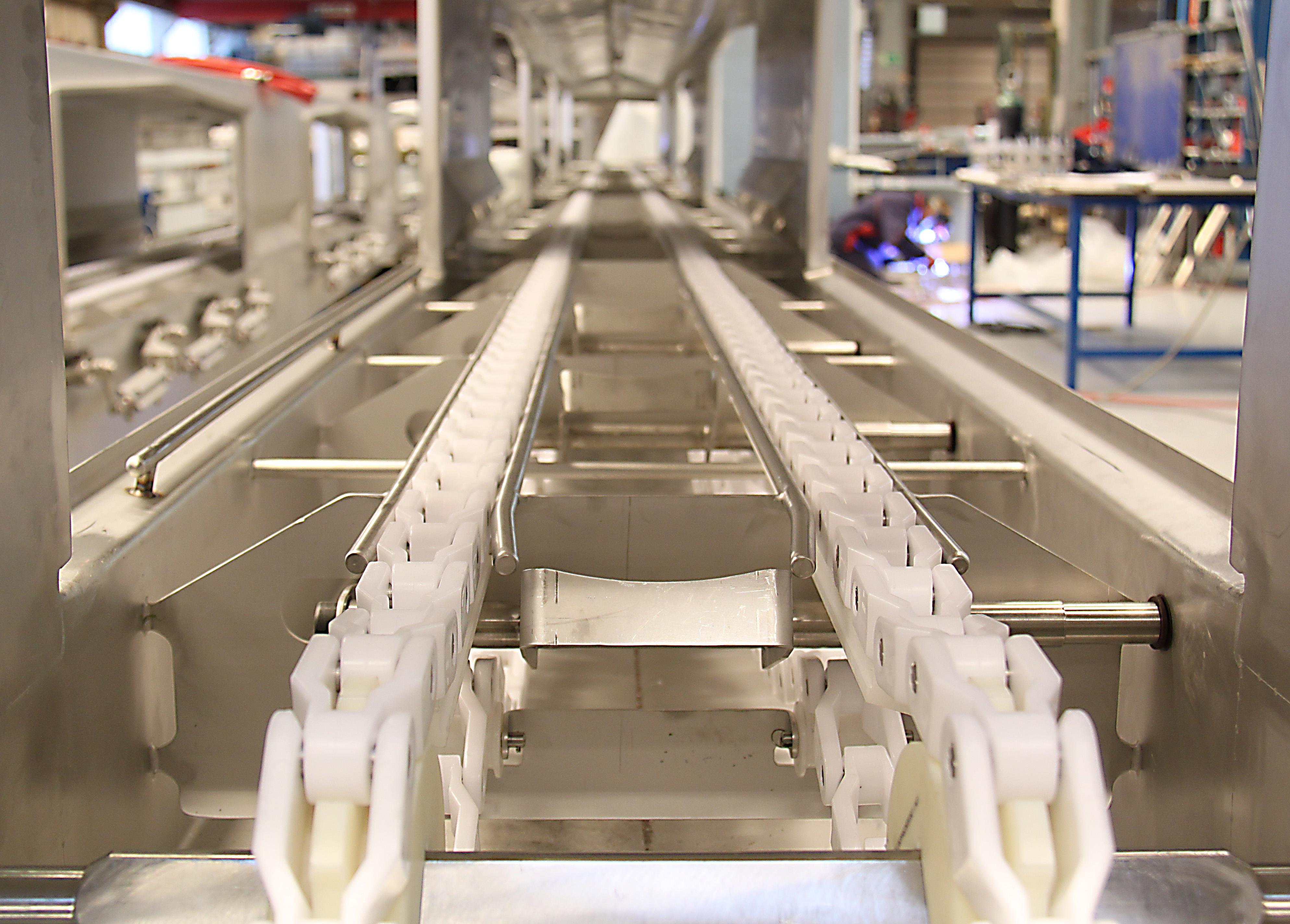 At MKT, we have an industrial heritage of almost one hundred years and the know-how on modern cheese production technology.
From cheese vats made of stainless steel, to pressing and brining equipment, and automated, cloud-based solutions, our offering includes everything you need for your industrial cheesemaking operation.
1. MKT Cheese Vats Are Suitable for All Industrial Cheesemaking
A durable, easily washable, high-quality cheese vat is the most important single piece of equipment in an industrial cheesemaking process. MKT cheese vats meet all the criteria for even the most demanding industrial cheese production line.
The most common reason for a cheese vat breaking is thermal expansion and the pressure variation that follows it – a strong vat can stand thermal expansion and daily strain.
Vats are washed in high temperatures with strongly alkaline and acidic detergents, and during this process, the vat will heat up and expand considerably.
Everyday tossing, tearing and other abuse will put a strain on the vat's structure and welding seams, and each time the seams are re-welded, internal tensions will form within the structure that will only cause seams to burst more often.
MKT cheese vats have a floating structure based on a special metal alloy that can stand sudden temperature changes and does not need to be welded constantly.
MKT cheese vats are equipped with a breather that will inhale more air into the vat as needed and ensure that pressure inside the vat remains constant and negative pressure that would crush the vat will not form inside it.
Download our guide to selecting a cheese vat »
2. Single Cut Knives for Optimal Yield and Quality
High-quality knife cutter enables a precise end result, making the cheese granules as smooth as possible and minimizing the amount of poorly cut curd and cheese dust. Evenly sized granules have a significant impact not only on the homogeneity of the cheese batch produced but also on the yield.
MKT cheese vats are equipped with knife cutters that produce less cheese dust than, for example, a wireframe.
The blades are easy and quick to detach for sharpening and to change the types of blades for making different types of cheese in the same vat,
With MKT knife cutters, the blades touch the cheese mass only during cutting.
An automatic cutter enables optimizing the cheese curd and provides an even cutting result.
We design stirring blades of precisely the right size and shape to produce kind and gentle stirring, not damaging the product.
During stirring, the cheese curd is also heated to the required temperature to help extract the whey from the curd.
When assessing the quality of heating equipment, it is important to pay attention to the evenness and controllability of the temperature, because different types of cheese require a different temperature.
Download our guide to profitable cheese production »

3. MKT Multi-purpose Cheese Vat Offers Premium Durability
MKT multi-purpose cheese vat (MPCV) is the latest in cheese production technology – a horizontal cheese vat designed to obtain the best possible yield and the most homogeneous curd size suitable for soft, semi-hard, and hard cheese types.
In MKT MPCV, the cheese is cut with an individual cut method, both lengthwise and crosswise.
All of the cutters are equipped with blades that can easily be removed for sharpening or to change them for another type of cheese.
MPCV is mechanically very durable, due to robust metal alloy and a floating vat design, with an automatic rennet distribution system which is also CIP-cleanable.
Powerful and precise integrated heating system with heating on the vat side and also on vat ends makes it easy to handle different recipes for different cheese types.
As an option, the vat can be equipped with a whey suction unit to remove the whey out of the curd as well as to add water into the curd.
User-friendly Siemens S7 programmable logic controller with a touch panel makes it easy to operate the vat.
Download MKT Multi-purpose Cheese Vat tech sheet »
4. MKT Pre-press Vat Is a Versatile Workhorse
MKT pre-press vat (PPV) is a multipurpose cheesemaking device. It can handle various types of cheese, and you can operate it as a press vat or a pre-press vat.
PPV enables even curd distribution and efficient whey drainage, resulting in high yield.
PPV allows lots of possibilities in cheese production, as the vat makes it easy to cut different curd block sizes.
You can shorten and lengthen the curd bed size and change the final cheese block size by adjusting the cutting feed, while the unloading unit cuts the cheese into the desired block size.
PPV can be equipped with a special curd distribution device that evens out the height of the curd bed and thereby optimizes accurate weight for the final cheese blocks.
The curd distribution wagon makes the pre-press vat fully automatic with no need for manual work.

5. Pressing and Brining Ensure the Quality of Your Cheese
MKT mold presses and brining lines are fit for any industrial cheesemaking process. Automated and semi-automated equipment make your operations faster, ease the workload, and even enable the production of smaller batches.
MKT cheese mold presses have a separate frame for receiving pressing forces, resulting in longer lifespan for the press, and an innovative conveyor design for transporting the molds through the press.
When automatic loading and unloading is preferred, the hygienic CIP-cleanable tunnel press is the best choice.
We also supply automatic mold filling and emptying equipment, tailor-made for your mold and the conveyor systems to transport the molds to and from the press.
For manual production of small batches, semi-automatic presses with manual loading and pneumatic pressing are also available.
We design and manufacture automated brining lines for old basins or with completely new stainless steel tanks, equipped with feet, and including cheese racks and a crane, which is also available in stainless steel.
Quality packing machines are also available through our network, allowing you to get all equipment effortlessly from one place.
MKT pilot vat is a 50-litre semi-automatic cheese vat that makes it easy for cheesemakers to experiment with new flavours and recipes in a cost-efficient way.
6. MKT Cottage Cheese Vat is Full of Great Features
MKT cottage cheese vat is the first industrial cheese vat on the market with knife cutters instead of wire cutters for maximum yield and safety. The entire cottage cheese production line is available as a turn-key delivery, including cottage cheese vat, cooling/washing tank, integrated whey drainer, and cottage cheese creamer.
MKT cottage cheese vat is controlled with Siemens PLC, and frequency converters are used to adjust the speeds of all tools.
Floating vat design and solid shaft materials make the vat durable and reliable, and that's why many of the largest dairies in Europe use it.
Single cut method enables optimal yield and shape of curd cubes, and both long cut and cross cut knives are individually powered.
The blade remains 10 millimeters from the tank wall, ensuring that there is less remaining uncut curd and the mix is optimal, while the lengthwise cutting tool lifts automatically from the cheese after cutting.
With automatic rennet distribution, the tank pressurizes automatically when rennet is poured into the distribution tank, and rennet is sprayed evenly to the milk inside the cheese vat.
Integrated heating unit with a steam adjustment valve, a heat exchanger, and a pump for a vat-heating water circuit.
PLC controls the steam flow and optimizes temperatures of heating water for different heating stages.
The system is CIP-cleaned with 8 pieces of Alfa Laval Sanimagnum sprayballs.
Download our free guide to making cottage cheese »
7. MKT Ultrasonic Washing Machine Cleans Cheese Molds and Lids Effectively
The cleanliness of the whole cheese production line is extremely important to keep unwanted bacteria away. MKT ultrasonic washing machine  is specifically designed for washing and cleaning molds and lids used in cheese manufacturing. The automatically operating washing machine can be integrated into the MKT cheesemaking line.
Extremely effective cleaning of cheese molds and lids with low detergent consumption.
Use of ultrasonic elements for a good washing result even for the most complicated mold designs, and tailoring according to the cheese mold pattern in use.
Pre-rinsing and final rinsing of molds and lids, and a fully automated flow-through operation.
Capacity can be adjusted according to line capacity, and manually loaded basins are available for smaller production batches.

8. Automation Increases Efficiency and Reliability in Production
Well-designed and reliable automation is essential in industrial cheesemaking nowadays. Automation helps organise cheesemaking processes in a more efficient manner, and cheesemakers can focus on tasks that suit them better. Automation helps in making cheese of uniform quality in every shift in the factory and managing the variation occurring in milk quality.
MKT offers fromagers high-quality automatic cheese vats and other cheese production equipment, cloud-based software, cloud storage capacity and necessary integrations.
Automation helps in continuous monitoring and measuring of raw materials and cheese mass, and based on the collected data, the automation adjusts the vat processes independently, ensuring consistent quality.
Our automation solutions also help in the maintenance of the equipment, so that the vat is always in the best condition for use, and control all the tools and actuators of the vat in a precise and timely manner.
Several different programs or recipes can be stored in the memory of the cheese vat and fine tuned easily or recalled by the press of a button, and the system also manages the backups of the recipes.
Automation handles the entire manufacturing process without any further guidance, from filling the vat to thoroughly washing it.
With automation, cheese production is always running at the optimal level of performance, making the best use of the production equipment at all times, and it can be monitored remotely.
With cloud-based monitoring, you can continuously monitor equipment utilization, power supply, and other data, and it can be used to estimate maintenance needs and to see the upcoming fault conditions in advance to minimize equipment breakdowns and unnecessary downtime.
MKT maintenance service can monitor the condition of cheese factory equipment directly using data shared through the cloud and carry out the necessary operations.
Download our guide to reliable cheese production »
If you are interested in MKT quality industrial cheesemaking equipment, please get in touch with us to find out more!